The Fold n' Drop Home Page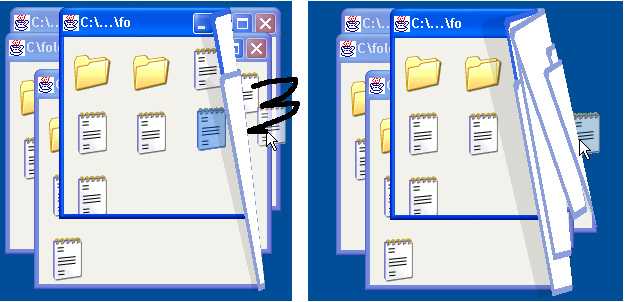 Fold n' Drop is a new interaction technique for seamlessly dragging and dropping between overlapping windows. It allows you to fold windows while dragging objects (watch the YouTube video). Although it is still a research prototype, having it integrated into most popular window managers is technically conceivable.
You can try these gestures in the Java demo.

To fold a window, quickly cross its boundary back-and-forth while dragging. Then, drop. Other possible gestures are:

Leafing through windows.

Discarding windows.

Unfolding windows.
Short paper
Dragicevic P. Combining Crossing-Based and Paper-Based Interaction Paradigms for Dragging and Dropping Between Overlapping Windows. In Proceedings of the 17th annual ACM Symposium on User Interface Software and Technology (UIST'04), pages193-196. ACM Press, 2004.
Additional links